GMOMA Collection Highlights
Period/ 2018.08.15(Wed) ~ 2018.11.25(Sun)
Venue/ GMOMA Exhibition Hall


Since the opening in 2006, Gyeonggi Museum of Modern Art (GMoMA) has focused on collecting Korean contemporary artworks post-1950's in diverse genres including traditional Korean painting, painting, sculpture, photography, installation, and new media. That effort has now reached about 559 pieces. They were purchased through external announcements and the research of the curators (86%), donated by participating artists in special exhibitions (11%), and gathered from the management of Gyeonggi Creation Center (3%) over the last 12 years. The majority are representative artworks of known artists of the 1970's to 1980's and the representative work of contemporary artists in Korea after the 1990's.

For this exhibition the curators of GMoMA selected representative artworks in the collection by considering its value in the context of art history and contemporary scenes. The curators conducted three meetings to select appropriate work for the exhibition from among the 559 pieces; 99 pieces were selected to represent GMoMA. Then among those 99 pieces, 25 were selected for the exhibition according to the limitations of the space and their frequency in prior exhibitions. The works that were excluded from this exhibition also will be introduced to the public through the collection book under the same title, published to celebrate the 12th year of the opening on October 25th.

GMoMA Collection Highlights is intended to promote the value of Gyeonggi-do's artistic cultural resources and to report on the last twelve years of GMoMA in conducting its role of public museum. It is also an excellent opportunity to appreciate the work of representative contemporary artists of Korea together at one event.
주요작품
Kim Hong-joo, Untitled (2002)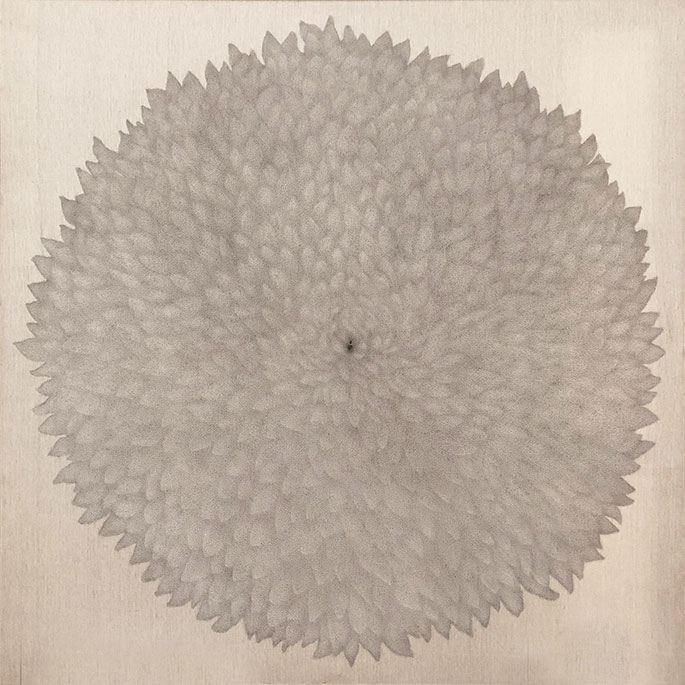 Kim Hong-joo | Untitled | 2002 | Acrylic on canvas | 162×162cm | Purchased in 2006
Kim Hong-joo (1945-) is an artist well-known for his paintings of flowers and letters made with hyper realistic drawing techniques. After participating in the S.T (Space Time) Group, which led the conceptual and speculative activities in the early 1970s, Kim lost interest in the abstract play of conceptual art. From the mid 1970s, he reproduced objects such as dressing stands, windows, and mirror frames by drawing a portrait, human figure, or landscape into the object in a hyper realistic technique. Through the attempt to bring together what is seen and what is reflected from a realistic image, he has researched object representations and phantasm, and the limitations on how to draw them. At that time, solid-color abstract planes were prevailing among painters, but Kim Hong-joo didn't follow the current trends and pursued hyper realistic reproduction. Since the late 1980s, he has been working with subjects of farmlands and fields, cities, mountains, maps, letters, flowers, and so on.
Untitled (2002) is a piece from the flower drawing series that he started in the mid-1990s. Kim gives prominence to a single flower with a full front view on a large canvas 162cm both wide and tall. The drawing of the single flower with empty marginal space allows the viewer to focus on the flower without redirecting their gaze. The flower drawing with slender brush strokes becomes an abstract painting, breaking away from the flower shape that we already know. Kim Hong-joo's flower drawings break from conventional visual and verbal sense, suggesting to viewers unlimited interpretation possibilities from all directions and perspectives, leading to a new visual definition of an object.
Min Joung-ki, Waryongchu (2005)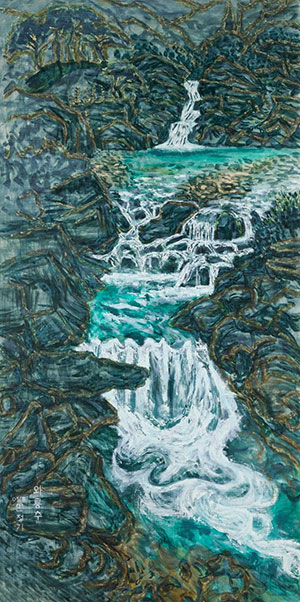 Min Joung-ki | Waryongchu | 2005 | Oil on canvas | 223×113cm | Purchased in 2005
Min Joung-ki (1949-) is a member of 'Reality and Utterance' (Korean art movement group in 1980) and a representative artist of Minjung (People's) art movement. His early works were mainly drawn from common paintings found at barbers in "kitsch" style, and his paintings depicting urban landscape brought the 'utterance' of real society to the mainstream. He then moved to Yangpyeong, Gyeonggi-do in 1987, and began to paint the history and story of the life we live. After exploring and observing scenic spots and places of historic interest throughout Korea, he has revived the interest and dignity of traditional landscape paintings in a new way while using western materials and oil painting techniques. Based on ancient Korean traditional maps, his works reflect both human geographical history and its present appearance, transcending both time and space in order to create his unique world of 'cartographic landscape paintings.'
Waryongchu (2005) is a painting of Yongchu Falls located in Seungan-ri, Gapyeong-eup, Gapyeong-gun, Gyeonggi-do. The name of the waterfall, Yongchu, originates from a local legend saying that this was the place where a dragon ascended to heaven, and if a ritual for rain was held and water was scooped out of the falls during a drought, it would rain. Yongchu Falls is a small waterfall with the height of only about 5 meters, but it has plenty of clean water surrounded by rocks. These strangely shaped rocks are called 'Waryongchu.' Gapyeong has eight scenic views, and its third scenic view is called 'Nine Yongchu Valleys' or 'Nine Okgye Valleys,' which include Waryongchu, Musongam, Tangnyeongnoe, Gosiltan, Ilsadae, Chuwoldam, Cheongpunghyeop, Gwiyuyeon, and Nongwangye. The artist expresses the beautiful natural landscape and old story of the Nine Yongchu Valleys, one of scenic attractions in Gyeonggi-do, with his unique style of rough yet light brush strokes in a long canvas.
Park Yung-nam, Landscape against Blue Sky (2006)
Park Yung-nam | Landscape against Blue Sky | 2006 | Acrylic on canvas | 250×200cm | Purchased in 2006
Park Yung-nam (1949- ) graduated from Seoul National University College of Fine Arts Department of Painting and City University of New York Department of Painting, and is an artist who has been working on abstract concepts since the 1990s, which has been an important feature of modern art in Korea. Park has continuously participated in solo and group exhibitions in Seoul, New York, Paris, Germany, etc. and has been also expanding the scope of his artwork with the so-called 'finger painting' through which he paints the emotions of nature and life freely and instinctively with his fingers.
Landscape against Blue Sky (2006) is a sensuous and intuitive piece of art. The image partitioned naturally through finger painting gives off a different feeling than geometric abstract or abstract expressionist works. The artist expresses the play of a basic esthetic desire by drawing blindly like a child, pursuing the purity of childhood. Park Yung-nam's abstract painting conveys the liberty and beauty of the fine arts, just as when he says, "I just do my work by habit, while avoiding any kind of style, convention, or concept."
Park Hyun-ki, Untitled (1993)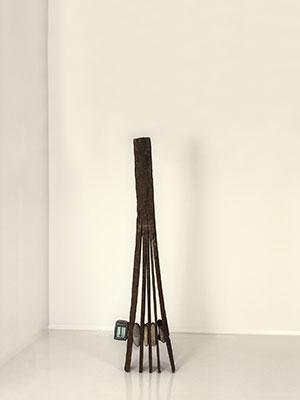 Park Hyun-ki | Untitled | 1993 | Monitor, stone, wood, single channel video, silence | Purchased in 2010
Park Hyun-ki (1942-2000) is an artist from the first generation of Korean video art that expressed his unique world of artworks in diverse genres including drawing, three-dimensional structures, photographs, video installations, videos, performances, etc. His interest in video art was influenced by world-renowned video artist Nam June Paik (1932-2006), but Park's works are more focused on harmony between nature, object, and physical property, following the flow of Korean contemporary art in the 1970s. While Nam June Paik used advanced technology, Park, aiming towards the non-technological genre, tried to materialize fundamental questions about art through video installations. His major artworks include Video Stone Tower (1978), created by juxtaposing real stones with stones in a TV monitor; TV Seesaw (1984), showing a stone and steel plate seesaw on which a large stone is sitting on one side and a TV monitor showing a stone image the other side; and Mandala (1997-1999) that shows cross-cut images of Buddhist iconography and porn scenes at a rapid speed.
Untitled (1993), one of the so-called 'Wooden Hand' series made with abandoned railroad sleepers and stones in the early 1990s, is composed of a long sleeper with five finger-like wooden bars on the bottom, a stone stuck between each wooden bar, and a small monitor showing the artist looking around the actual artwork hung on the left wooden bar. 'Stone', which has been the main object of the artist's works all his life, is the nature that embraces primordial time and space, and the object with which the artist identifies himself as he felt the limit of Western science. In addition, 'Hand' is a common topic in his work, and the video in which the artist is contemplating this work composed of stones and the finger-shaped wood shows the state in which the work and the artist are becoming one.
Bae Young-whan, The Way of Man – Bulgwang-Dong First Love (2007)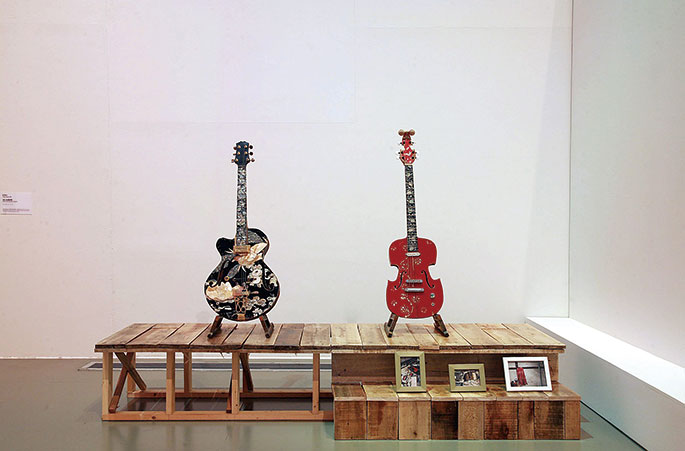 Bae Young-whan | The Way of Man – Bulgwang-Dong First Love | 2007 | Mixed Media with Abandoned Wood | 105×30×8cm, 110×45×15cm | Purchased in 2007
Bae Young-whan (1969- ) has been expressing cultural sensitivity and ideology unique to Korean society through various expressive media such as painting, sculpture, installation, and video since the late 1990s. His representative works are Song for Nobody, Can You Remember?, Fools' Boat, and Pagus Avium, each work connecting to and disconnecting from each other to illustrate portraits of modern men. In the past few years, the artist has maximized the possibility of thinking through art by visualizing invisible concepts such as one's life and death, depression and healing in modern society. Moreover, he has continued the public art projects that realize the role of art coexisting in everyday life, such as Library Project – Tomorrow, Shoulder Project, Homeless' Notebook – In the Street and so on
The Way of Man – Bulgwang-Dong First Love (2007), which was unveiled at the special invitational exhibition at the Art Space Pool in 2005, shows the sentiment of his early work Song for Nobody with the 'acoustic guitar' object. The cabinet fragments inlaid with mother-of-pearl that decorate the guitar's body are the important material that is in the same vein of his work in which the artist uses furniture abandoned at the end of its trend during the 1980s to 90s in order to create the guitar, which was once the symbol of the youth, romance and resistance. The guitars that cannot make any more sounds but only keep its appearance act as a metaphor for the men who lost their voices and are fading away in Korean society where only authority and success are valued. Based on affection and concern for people, The Way of Man – Bulgwang-Dong First Love is also a consolation to those men.
Yun Hyong-keun, Burnt Umber and Ultramarine (1978)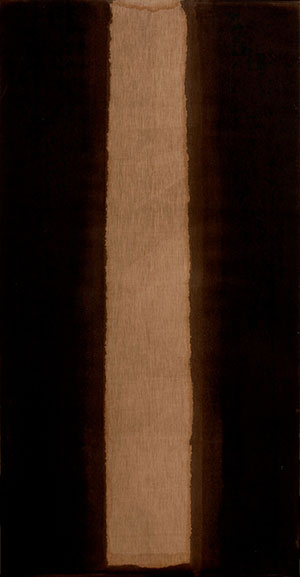 Yun Hyong-keun | Burnt Umber and Ultramarine | 1978 | Oil on Linen | 270×140cm | Purchased in 2007 | ⓒ Yun Seong-ryeol
Yun Hyong-keun (1928-2007), a representative artist in the flow of monochromatic paintings in Korea in the 1970s and 80s, continuously showed abstract paintings in which simplified horizontal and vertical color faces or lines overlapped. Since the mid-1970s, the main colors of his works have been brown and navy blue, which are the essential colors of nature ultimately captured by the artist through repetitive omissions among numerous colors. The world of his works, in which the artist wants to embody a plain inner essence, not loud colors and shapes, resembles the oriental meditation and view of nature. Saying "My painting started from the writing of Chusa Kim Jeong-hui," the artist shows his own abstract world by drawing strokes repeatedly on his paintings.
The title of the painting, Burnt Umber and Ultramarine (1978), which is simply the names of the colors, was named as such because the artist did not think that needed any explanation in words. For him, brown means 'earth' and navy blue means 'sky', and the black made by combining earth and sky means 'the color that nature eventually returns to.' His work, described as 'the thing that is close to nature,' embodies the order and mystery of nature based on the image of an old tree that was found by the artist accidentally. The artist uses paints that are diluted with turpentine to permeate through the linen canvas as he paints, expressing subtle effects of light and shade similar to the traditional painting technique of the Orient in which pigments are absorbed in cloth or paper. While his works have been more simplified in terms of composition of the painting by reducing the paints' bleeding since the 1990s, this work produced in 1978 is one of his early works that express the light and shade of colors naturally.
Lee Sang-hyun, Meditated Portrait of Korean Historical Epic – Tapacementor (1) (2004)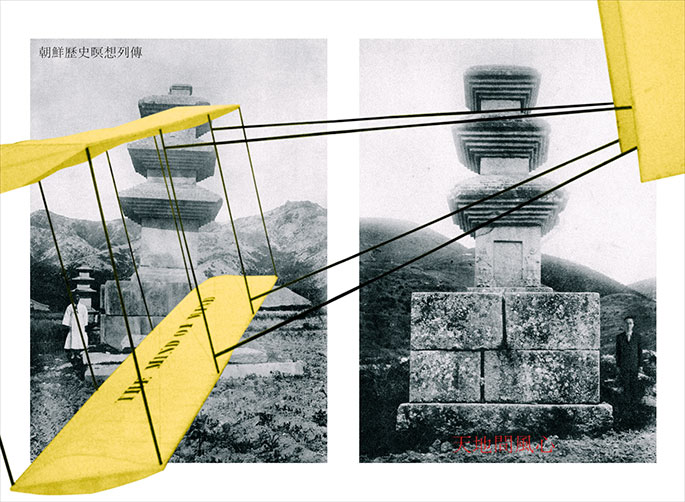 Lee Sang-hyun | Meditated Portrait of Korean Historical Epic – Tapacementor (1) | 2004 | Digital Print | 110×150cm | Purchased in 2007
Lee Sang-hyun (1954- ) has received public attention as his works have ranged over almost all areas of visual arts by transcending genres using the advanced technology and his extraordinary imagination ever since the early 1980s. Lee was selected as one of the most important artists of the 21st century in 1996 by Le Figaro, a leading French daily newspaper. His works show digital images synthesized with old black and white photographs or traditional Korean paintings, transcending time and space, the mixture of the ideal and the real, and the coexistence of truth and fiction.
The series Meditated Portrait of Korean Historical Epic consisting of 20 works made over 10 months between 2004 and 2005 is Lee's work that was produced when he resumed his artistic activity after years of a slump caused by his appearance in Jang Sun-woo's film Lies (1999). This work is a composite picture in which the photos of Joseon Gojeok Dobo (Pictorial Guide to the Ancient Artifacts of Joseon, 1915-1935), compiled and published by Governor-General of Korea during the Japanese colonial era, were edited with a digital image. In the photographs, the artist in a black suit wanders around remains of Joseon under the Japanese colonial rule by riding the time machines 'Tapacementor (Time+Space+Movement, 1988)' and 'The Mind of Wind (1989),' invented by the artist himself. He appears like an alien at historic sites, which have become ruins, such as ruined Anapji Pond and deserted Bulguksa Temple, Gyeongju, and dilapidated Stone Pagoda at Mireuksa Temple Site, Iksan. His works criticize the political and historical situations of today's Korean society such as the North Korean nuclear issue, China's Northeast project, and Japan's territorial claims to Korea's Dokdo islets, referring to the history of Japanese colonial era.
Lim Min-ouk, Portable Keeper (2009)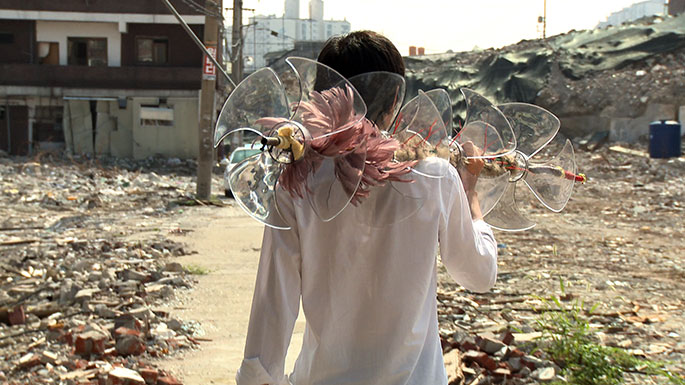 Lim Min-ouk | Portable Keeper | 2009 | HD Single Channel Video, Sound | 12' 53" | Purchased in 2010
Lim Min-ouk (1968- ) projects the disconnection and sense of alienation from conflicts and the absence of communication between generations into a social context and expresses them through various media outlets such as installation, video, and performance. The artist presents a critical perspective on the rapid modernization of rural areas and the compact growth of Korea, which began with the Saemaeul Movement in the 1970s, and uses a social and personal sense of loss and heartbreak behind the success story of Korea's modern history as the main materials for her works. Lim's artworks are based on her personal experiences, such as the image of urban development witnessed from her youth, and her multicultural personal history. In the 1980s, she stopped studying and moved to Paris where she lived as a member of the writers and artists' group called "General Genius". The joint experiments in various genres such as design, public art, and archives, which she tried at that time, became the foundation of her works that display radical and challenging tendencies by crossing social reality and everyday life.
Portable Keeper was an ongoing project that started from 2009 and is composed of installation, performance, and video. In the video, a man carries on his shoulder the 'portable keeper' that is made of discarded parts of electric fans, feathers, writing tools, and artificial fur that are all connected lengthwise, resembling a totem. The man roams around a traditional market and ruined construction sites as if he is a modern version of a shaman who performs a ritual to protect and restore forgotten space-time. In this object combined with disparate materials, the artist embodies complex emotions such as a sense of loss and abandonment experienced while resisting against destruction and its process.
Jo Dong-hwan and Jo Hae-Jun U.S. Army and Father (2005)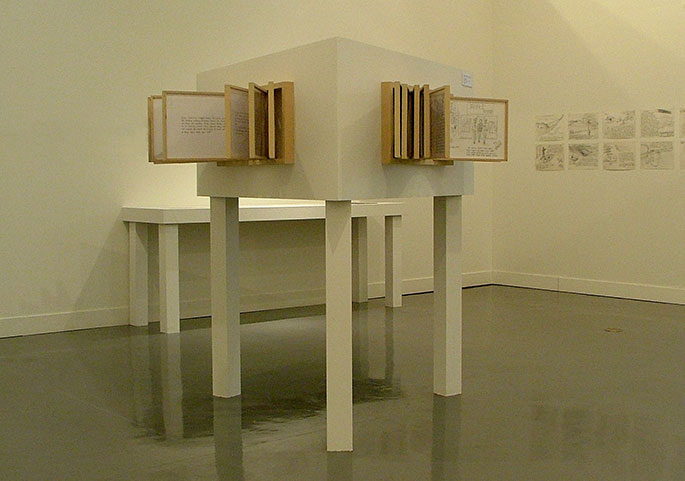 Jo Dong-hwan and Jo Hae-Jun | U.S. Army and Father | 2005 | Pencil Drawing on Paper | 27.3×39.5cm Each (22 Drawings) | Purchased in 2008
Jo Hae-Jun (1972- ) graduated from the Korea National University of Arts and studied graphics at Stuttgart Stata Academy of Art and Design in Germany. Jo Dong-hwan (1935- ) is father of Jo Hae-jun and was an aspiring artist. In 2002, as Jo Hae-jun was curious about the art catalogue given by his father Jo Dong-hwan, Hae-jun exchanged letters with his father. In the process, Hae-jun suggested that his father produce his own drawings including words about the father's personal and family history. Since then, the father and son have been working together.
U.S. Army and Father is a documentary-style drawing work composed of 22 drawings based on the personal story of the father Jo Dong-hwan and U.S. soldiers whom the father met, heard of, and shared experiences with. Jo Dong-hwan met U.S. soldiers for the first time at eleven years of age in Hokkaido, Japan, in 1945 and served in KATUSA in the U.S. army in 1959. This drawing series is a story related to the US army seen from the perspective of a person who lived normally during the time of the upheaval in Korean modern history studded with Japanese colonial rule, independence, division of Korea into north and south, the Korean War, and anticommunism, and is also based on personal experiences that are interlinked with Korea's unique condition of modern history. In this joint work, there is a story hidden within the personal and family history in which whenever the defensive and self-reflecting aspects of the father's past memories are revealed, the hesitation and forgotten perception are uncovered.