Quantum Leap 2019 Relay Duo Exhibition: 《Strange Season》by Jeong Jae-hee
Period/ 2019.09.17(Tue) ~ 2019.11.10(Sun)
Venue/ Gyeonggi Museum of Art Project Gallery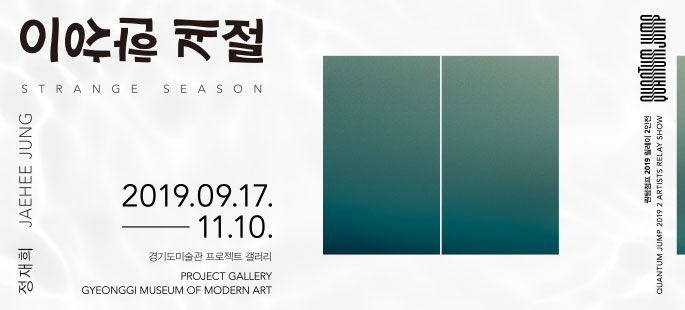 Quantum Leap is a collaborative program introduced by the Gyeonggi Museum of Art and Gyeonggi Creation Center in 2015 to support creative activities of young artists and present them with opportunities to introduce experimental artworks that have potential. This year, the program has implemented a 'select and focus' approach, reducing the annual number of artists participating in the program from 4 to 2 while increasing the exhibition period allocated to each artist from 1 month to 2 months. Such a change has been made in order to increase the amount of resources that each artist can receive.
The first artist of this year's 'Quantum Leap Relay Duo Exhibition' is Jeong Jae-hee (b.1982). Jeong Jae-hee recontextualizes electronic appliances and leads the audience to have multiple sensory experiences through his work. In this exhibition, the artist is newly contextualizing electronic products that are related to weather, encouraging the audience to reflect on the environment that is shared by every being. His work, 《Strange Season》is a kind of installation artwork that utilizes electronic products that operate in different weather conditions in order to create strange and unfamiliar environments. The artist argues that volatile or extreme weather changes that occur as a result of a cause-and-effect relationship could be a logical consequence instead of being strange. Rather, what is stranger than this is the interior environment where a constant temperature, humidity and clean air quality are kept at all times. In such perspective of the artist, the artist creates a contradicting condition in an exhibition space, making the audience confront 'a strange season' that is created exclusively for humans. Through the exhibition, the artist wishes to encourage the audience to imagine and think about phenomena that are taking place in the greater world beyond our current recognition.
The project name 'Quantum Leap' is a term used in physics to indicate a phenomenon where one energy takes a leap forward to a new dimension. The name reflects the Gyeonggi Museum of Art and Gyeonggi Creation Center's wishes for this project to become a platform that helps young artists take a leap forward. The second exhibition of 'Quantum Leap 2019 Relay Duo Exhibition' is 《The Waves at Night》 by Park Mi-ra, who observes the hidden side of our surroundings as an urban hiker, and expresses the discovery in the form of drawing. The exhibition will start on November 19 and end on January 19, 2020.
Host
Gyeonggi Cultural Foundation
Organizer
Gyeonggi Cultural Foundation, Gyeonggi Creation Center
Sponsor
Samhwa Paint Industrial Co., Ltd.