Quantum Leap 2019 Relay Duo Exhibition: Park Mi-ra 《The Waves at Night》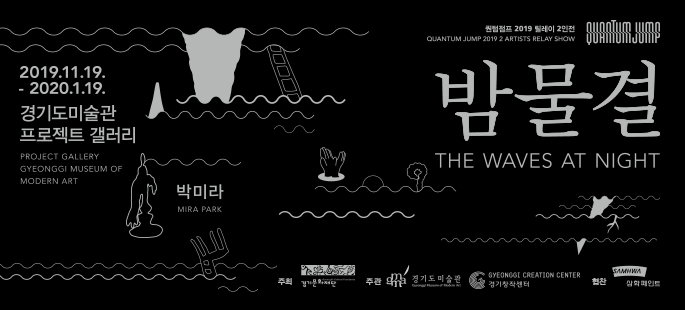 Period
: 2019.11.19(Tuesday)~ 2020.01.19(Sunday)
Place
: Gyeonggi Museum of Art Project Gallery
Participating artist
Host
: Gyeonggi Cultural Foundation
Organizer
: Gyeonggi Cultural Foundation, Gyeonggi Creation Center
Sponsor
: Samhwa Paint Industrial Co., Ltd.
Quantum Leap is a collaborative program introduced by the Gyeonggi Museum of Art and Gyeonggi Creation Center in 2015 to support creative activities of young artists and present them with opportunities to introduce experimental artworks that have potential. This year, the program has implemented a 'select and focus' approach, reducing the annual number of artists participating in the program from 4 to 2 while increasing the exhibition period allocated to each artist from 1 month to 2 months. Such a change has been made in order to increase the amount of resources that each artist can receive.
The second artist of the 2019 Quantum Leap Relay Duo Exhibition is Park Mi-ra (1982). Park Mi-ra takes a walk around cities, uncovering and recording dark shadows hidden away in the streets from the perspective of a pedestrian. In this exhibition, the artist focuses on the temporality of 'night' when emotions tend to become most vulnerable and sensitive. 《The Waves at Night》creates a story based on themes such as fear, insomnia, the absence of light, shadows, darkness, and black color that are amplified during night time. Comprised of three pieces of animated drawing, the exhibition has a narrative that is connected to the artist's existing artworks, and attempts to discuss 'a wall that is created through projection of light.' The forms created by moving images projected by a beam projector are connected to the concept of 'a moving mural' that Park Mi-ra has been recently exploring. The artist mostly uses black objects to recreate them into a flat surface or animated drawing. The artist unravels stories of various layers piled up together from the perspective of an observer. The black background seems like an empty space. On the contrary, it represents a space that is filled with various meanings and stories. Accordingly, removing a color equates to leaving extra space, and filling out space at the same time. The artist uses black, which implies a firm extreme, to draw a hidden gap on the other side of daily life. She then gradually fills the gap, becoming an urban hiker.